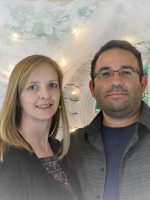 Worship Pastor, Web Admin., Elder
As a Worship Pastor, I have had a wonderful, and diverse career. I am a graduate of Azusa Pacific University (BS in Organizational Leadership). My musical experience spans over 40 years. For over two decades I have had the privilege of ministering to 10 different churches while having leadership experience with a wide variety of other ministries as well. More about me on my personal website.
My wife, Anandi, and I have three children. I married my childhood sweetheart. We go through life and ministry together.
Ministry has been dynamic in many ways. I am never surprised by how God can guide and utilize people in their giftings. He is truly an awesome God and an awesome Father. Come by and see us. We would love to worship with you.